Home
Please view the documentary film HARVEST OF DESPAIR by
clicking
Our mission is to build awareness and understanding of the Holodomor as genocide by famine against the Ukrainian people by perpetuating an education and information program; and to memorialize the victims of the Holodomor and preserve the legacy of its survivors.

1000 HOLODOMOR MONUMENTS – THE HOLODOMOR EDUCATION PROJECT

Ucrainica Research Institute, a research partner in the creation of the exhibit Holodomor: Genocide by Famine, which was produced in Canada, has developed a Holodomor Education project with two packages for distribution:

1. A readable and searchable CDROM with printed material for university, school and library research purposes;

2. The complete "Exhibit in a Box" Holodomor display with supporting printed material. Also included is the Statute of Canada Bill C-459 recognizing the Holodomor as an act of genocide and letters of support for the exhibit from MP James Bezan, Senator Raynell Andreychuk, MP Borys Wrzesnewskyj, as well as Ukrainian President Viktor Yushchenko;

3. A brochure introducing the exhibit.

The purpose of the Holodomor Education project is to contribute to the study of genocides by expanding the exhibit Holodomor: Genocide by Famine through further research and eventually establishing a Holodomor resource centre in Canada.

The League of Ukrainian Canadians and League of Ukrainian Canadian Women have developed a three-phase program to build public awareness and to distribute these Holodomor information packages to universities, schools, libraries and museums throughout Canada, Ukraine and other countries.
International distribution of the Holodomor exhibit, starting with major universities in Canada, Ukraine and USA, starting November, 2008 - Holodomor Commemoration Month.
International distribution of readable and searchable CDROM information packages for universities, schools, libraries and museums, starting November 2008.
Part Three
Coordinated public exhibitions in 2008 and 2009, with the eventual introduction of Holodomor Week to be held each year in November in Canada and across the world.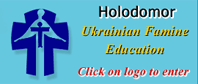 International Recognition of the Holodomor as an act of Genocide